2016 Daltile's Student Design Challenge Finalists
We want to recognize Ali Guymon and Ben Roghaar, interior design students who were brave enough to take on Daltile's Student Design Challenge in Fall of 2016. They had a chance to win a $10,000.00 scholarship, and represented two out of four finalists from over 120 entries across the country. Ali and Ben both proudly represent Utah State University.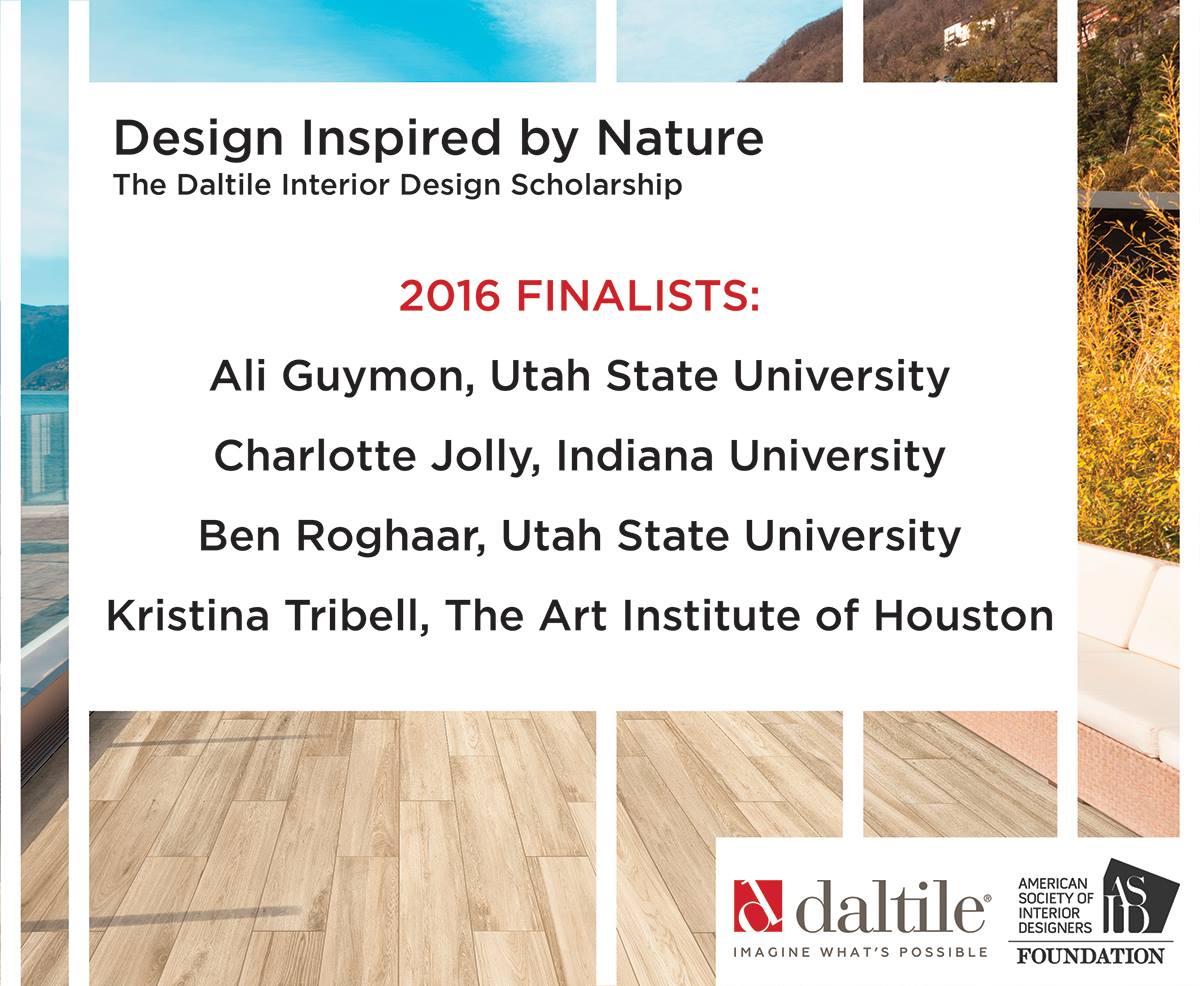 Daltile's Student Design Challenge Project Outline: For its 5th anniversary, the Daltile Interior Design Scholarship, presented by the ASID Foundation focuses on the unique relationship between nature and design.
Biophilia is the concept that people have an inherent desire to connect with nature and natural systems, highlighting the relationship between nature, human biology and the design of the built environment. The principles of biophilic design gives designers the guidance to design spaces that positively impact occupants' health, productivity, creativity, and wellbeing.
Recognizing the impact biophilic design can have on occupants within a space, Daltile and the ASID Foundation challenge you to design a hotel lobby using key biophilic design principles to address and enhance the guest experience. Your design must be for an existing hotel and must remain within the current structural parameters.
Design solutions will be judged on their vision, functionality, human impact, innovation and presentation.
To compete for the Daltile Interior Design Scholarship, you must be an undergraduate student studying interior design (or a related major) at an accredited college or university. Freshman, sophomore, junior, and senior students are eligible.
---
Name: Ali Guymon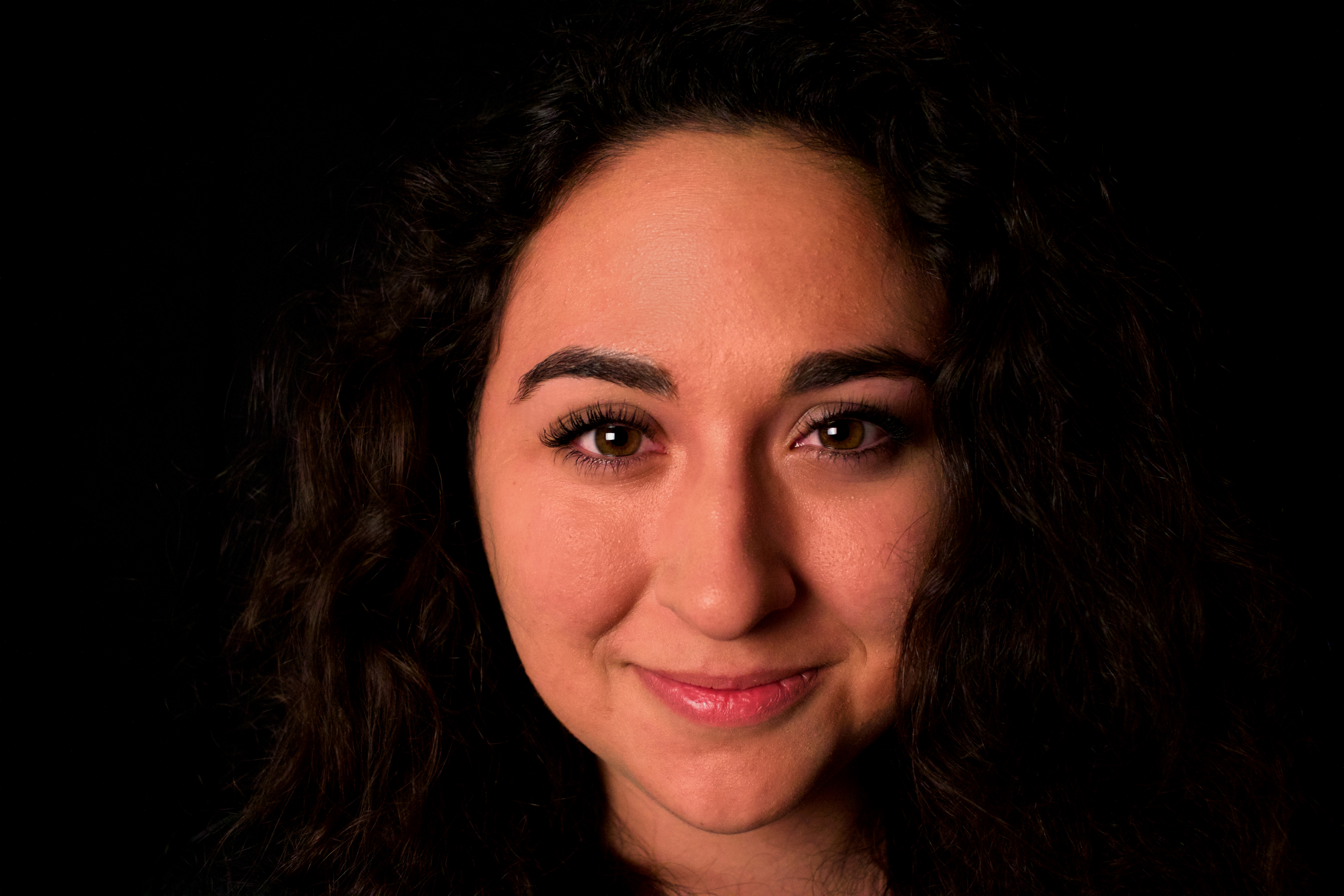 Year in School: Senior at Utah State University
Project Information and Design Inspiration: In short the biophilic inspiration for this hotel lounge was glacial ice caves. The large curved wall with the circular tile pattern was designed as abstraction of the frozen domes that line these caves. I wanted the space to feel like a refuge from the cold winters the way a cave is. Although the majority of the space is in shades of white hard surfaces, the forms that people directly interact with such as the floor, furniture, rugs etc. have color, plush, and warmth to provide that comfort factor.
The Following is the Description that was Submitted to Daltile: Glacial ice caves form when a hot spring or volcanic activity excavates underneath a snow field. This process creates multifaceted dome structures (see inspiration image) that arch high overhead. The driving force behind the biophillic principals used in this redesign is these and cave features and what lies outside a snow cave. Refuge, material connection with nature, prospect, and use of biomorphic forms and patterns were the main principals that guided the design of this space.
Designing a space to be a refuge from the cold winters was a primary concern. Plush material choices on the upholstery, warm soft rugs, layered lighting, and the large fireplace all create a comfortable arctic haven.
The natural materials used in this space included marble, wood, and granite. The chocolate colored Amani Marble Attaché is not only a natural material, but is also a simulation of the earth itself at the bottom of a snow cave. The Thunder White Granite slab that encases the columns was chosen to represent the middle of the visual scale against the large pattern of the marble tiles and the small scale of the City lights tiles. Raw wood end tables are used throughout the space as a further textural and visual connection to the natural world. Even the wicker sofa and armchair from Expormim uses natural materials for a tactile experience.
The ceiling height was changed to create a compress and expand moment reminiscent of exiting a cave to the boundless natural world. The transition from low ceilings to high creates a varied experience that simulates nature more than a single height, especially when paired with the curved ceiling.
This space provides a large open area with large glass windows and doors to allow for unimpeded and unparalleled views of the nearby mountain. The NanaWall BEARicade doors fold out to allow for maximum access to the surroundings as the seasons change.
Organic lines are used throughout the space in different applications as a further homage to the environment. The City Lights Wheel 720 St. Moritz pattern was used as an abstraction of the repetitious, domed forms that together create the arch of the cave. The sweeping half-arch is a representation of the cave's overall shape. Curved lines again are emphasized in the furnishings which include Bernhardt Design sofas, the Organic Modernism coffee tables, and the Jan Kath area rugs. Even the decorative lighting, by Paul Mathieu, on the curved wall was inspired by a perched bird. The use of biomorphic inspired forms in the sculptural furniture and fixtures is something that creates a connection to the curving hills and mountains all around.
How I Knew I Wanted to be an Interior Designer: My parents taught me from a young age about well crafted furniture and were always bringing home pieces to refinish. My mom also instilled in me a love of art. She paints and always insisted on taking us to art museums as part of our vacations. I found that my love of art and furniture came together neatly in interior design. I also find that interior design is a profession that doesn't get boring or stale. There is always something else to research or find inspiration from, and I love learning new facts and skills.
Career Goals: I would love to create my own furniture collection and eventually start my own design firm.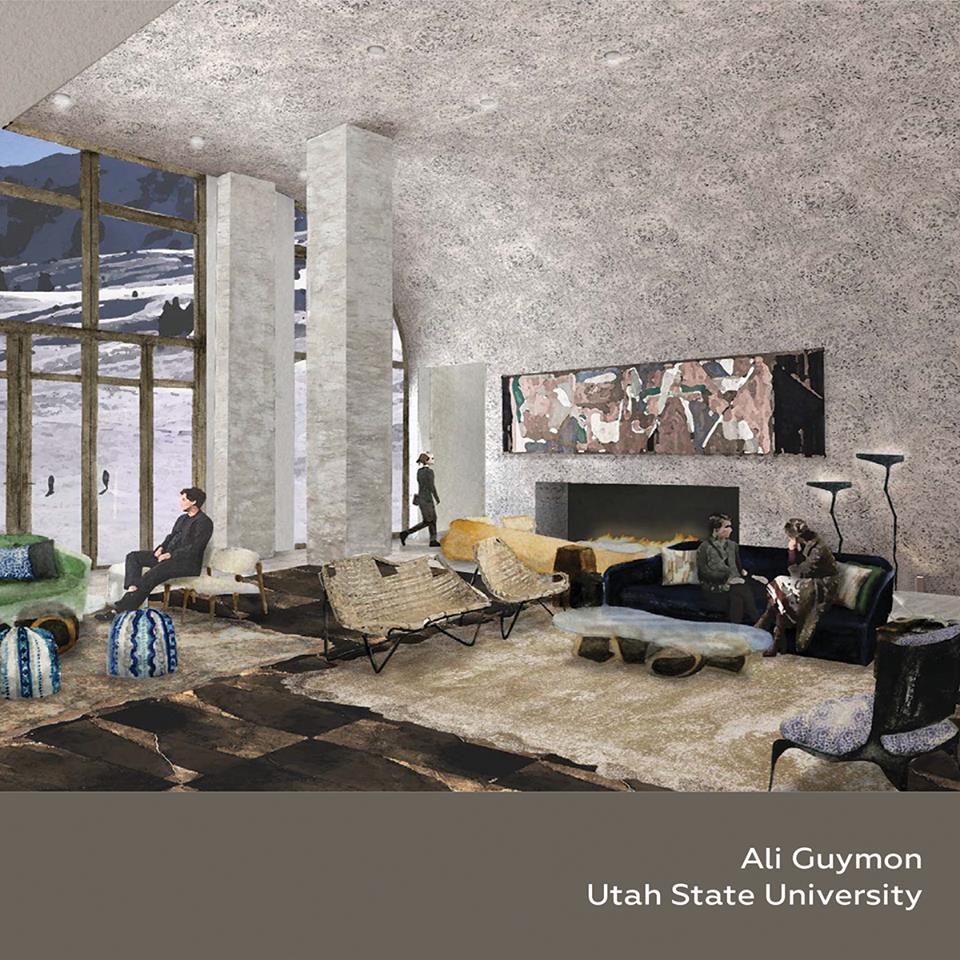 ---
Name: Ben Roghaar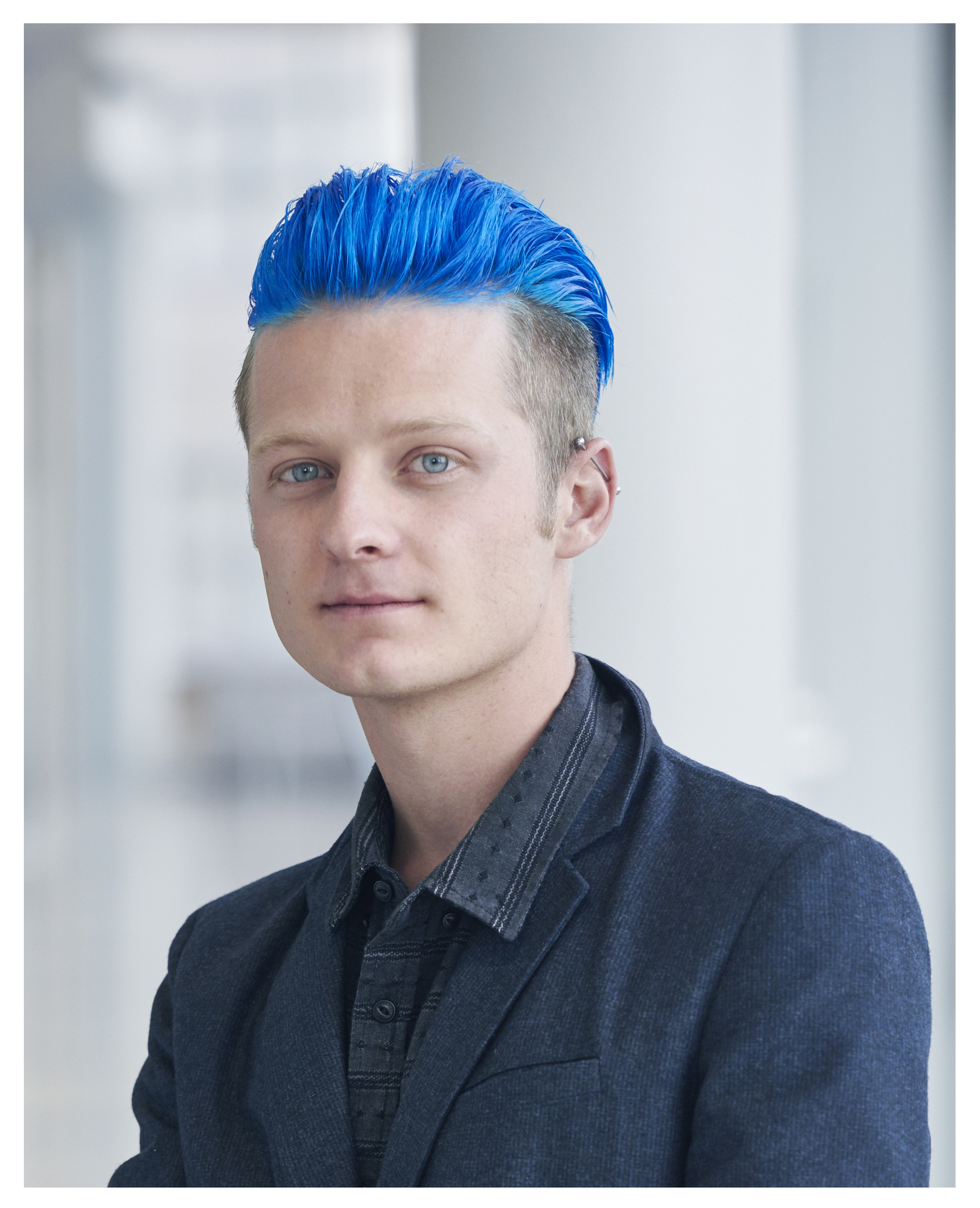 Year in School: Junior at Utah State University
Project Information and Inspiration: As soon as the theme of this year's Daltile competition was announced, I knew what I wanted to do. This year's theme, Biophilia, instantly got me thinking about bioluminescence. This natural phenomenon has always been a source of wonder and inspiration for me. The BBC series, Planet Earth has particularly good illustrations of what I'm talking about. I wanted this hotel lobby redesign to really stand out from the competition. I wasn't going to use natural textures and colors that may first come to mind.
First I had to create a visual vacuum, the feeling of open ocean, void of sunlight or warmth. This is the stage on which bioluminescence performs. Large black floor tiles and blacked-out walls and ceilings would do the job. This allowed for me to emphasize the selected feature tiles with the cloud of hanging pendent lights. These lights are reminiscent of bubbles, or photocells simply floating in space. The stripes of shimmering blue tile mosaic stretch across the room and pull the user into the desk like the long tentacles of a jellyfish. The desk itself is the primary focus of the space, it serves the most important function. I knew it had to really stand out and suggest an obvious purpose without becoming distracting or over-designed. The subtle shapes, and pattern, found within marble were perfect for this. It creates visual fluidity and contrasts the dark surroundings.
I wanted this room to feel like a visual oasis. It had to communicate the drama and beauty found within bioluminescent organisms, and hopefully mimic the associated wonder.
How I knew I Wanted to be an Interior Designer: I knew I wanted to be an interior designer when I realized what it actually entailed. I did take a basic class in high school, but until college, I don't think I really knew what it meant. Thanks to enthusiastic professors and amazing classes, I quickly got an idea. Being a designer meant I could combine all of my passions and skills into one career, into one lifestyle. Being a designer meant I wouldn't just be the weirdo friend to suggest drawing as a playtime activity rather than riding bikes or playing basketball. Being a designer meant that my early interest in fashion design and theatre design would be useful, and a possibility, in my future. Being a designer meant I would never get bored, it meant I would never settle into a monotonous daily routine of repetition or frivolity. I now realized how I could recycle my inspirations and share with others what I found to be beautiful in the world, or what I found to be interesting. I realized I could speak from a platform, and change lives, without actually speaking or being present.

Career Goals: I hope to gain important experience and perspective by working under seasoned professionals for as long as needed. I want expand my point of view and learn from the best. Eventually I would like to go down the product design path. Furniture design would be fabulous but I have always had a love for textiles. I would absolutely love to work with manufactures and developed unique textiles. Texture, color, pattern, form, function, and science, EVERYTHING goes into textile development.
Advice for New Interior Design Students: Time management is everything! Without proper time management all of your other skills are useless. It's ok to say no to yourself once in a while. Often there is just not enough time to accomplish everything you want to get done in a day. Make sure in those situations you aren't running out of time on your schoolwork.