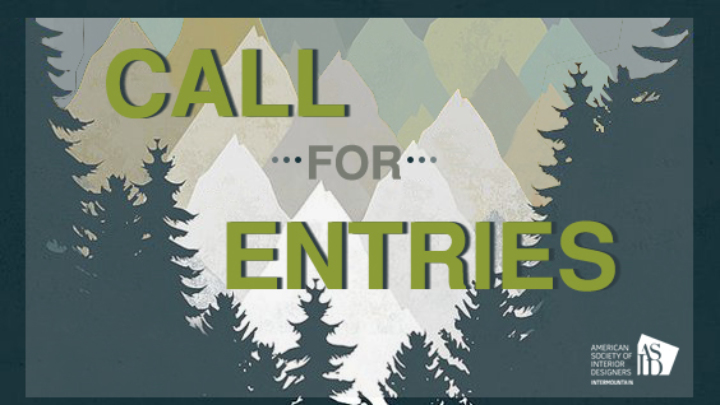 Call for Entries - Jackson Hole, WY
Description


Get your winning entry featured on the Intermountain ASID website and featured on the Mountain Living Website and our first Chapter online edition of Issuu!

Here are examples of the online magazine:
https://issuu.com/dsapubs/docs/sfdesign_2018_
https://issuu.com/dsapubs/docs/njvol3-2014
We make it easy – submit online & pay online.
Submission Deadline: August 25, 2018 11:30 pm MST.

DESIGN EXCELLENCE CATEGORIES
Residential Awards:
• Best Powder Room
• Best Outdoor Living Area
• Best Master Bath
• Best Kitchen
• Best Living Room
• Best Overall Residence
• Best Remodel
Commercial Awards:
• Office Spaces over 15,000 sf
• Office Spaces under 15,000 sf
• Government or Religious
• Education, Library, or Museum
• Hospitality, Restaurant, Bar
• Healthcare Project
• Best Product Design
SUBMISSION REQUIREMENTS FOR DESIGN EXCELLENCE AWARDS:
Entrant must be a current member of the Intermountain Chapter of ASID in good standing.
Provide $100 per entry submission.
Entrant may submit multiple projects under each category, the entry fee applies to each work submitted.
Upload high resolution photography, floor plan, and design statement for each submission.
Floor Plans must be submitted to scale, with scale noted or shown graphically in pdf format.
Design Statement (500 word limit).
Images: 2-10 images of your project, labels or captions added for clarity, in a single PDF,10 page maximum and 10 MB limit.
Applicant must be present to win or a representative from your firm must be in attendance.
In the event of insufficient or inadequate entries, the Intermountain Chapter of ASID reserves the right to cancel the category or contest and refund entry fees or restructure the categories in such a way as to permit fair and proper judging of entries received. The Intermountain Chapter is not responsible for lost, misdirected or delayed submissions. Entrants grant the Intermountain Chapter of ASID the right to reproduce project images for promotional purposes. The Intermountain Chapter of ASID assumes all entries are the works and property of the entrant and that clients of the assumed projects have given their permission for this entry. The Intermountain Chapter of ASID is not liable for any copyright infringement on the part of the entrant. Entry submissions become the property of the Intermountain Chapter of ASID, and will not be returned.
Payments should be made through Eventbrite. Entries received without payment will be disqualified. Entry fees are nonrefundable.
Submit a request to send your files to Paige Brown, paige.brown.asid@gmail.com
• You will receive a copy of your email
• Then upload PDF of design statement
• Upload PDF of 2-10 images
• Register and pay here using the link below
Entries and Payments must be received no later than August 25, 2018 prior to 11:30 pm MST. Late entries will not be accepted.
JUDGING:
To ensure impartial judging, all of the entries will be judged anonymously by a fellow ASID chapter. Submissions will be judged according to category submitted as well as the following criteria: Successful entries will demonstrate exceptional design and positive impact on life and the human experience. Judges will use a weighted scale as outlined below:
-20 pts How did your Design Impact Lives?
-10 pts Functional use of space, state the goals of the design
-10 pts Scale and proportion: Include square footage
-10 pts Color and composition
-10 pts Innovative use of materials
-20 pts Creativity of the design solution: Is the design approach creative, appropriate and sensitive to environmental or accessible challenges?
-10 pts Is the design approach creative, appropriate and sensitive to environmental or accessible challenges? Note any sustainable attributes or standards that were employed.
-10 pts Use of Universal design principles. Note any universal/accessible standards that were employed.
TOTAL: 100 Points
AWARDS:
Winners of the competition will be announced at the Designer Round Up + Annual Meeting at the Awards Gala following this event. The winning entries will be posted on the Intermountain chapter website. The winning projects will also be featured in the Call for Entries for the next Annual Meeting, and featured on Mountain Living's website.
ENTRY FORM: